We Restore Families
We believe, and research confirms that every child's chance of success increases when dad or mom is involved in his or her life.
---
The primary contributing factor to children entering the foster care system is the absence of his or her father. Beyond Prison strengthens and restores families by teaching practical parenting skills to individuals impacted by incarceration. Our programs also provides unique opportunities for the incarcerated parent to stay connected to his or her children. When parents are healthier, so are families.
WHAT WE'VE ACCOMPLISHED
Our programs are currently offered at:
Nebraska State Penitentiary
Lincoln Correctional Center 
Tecumseh State Correctional Institution 
Omaha Correctional Center
Lancaster County Department of Correctional Services
Nebraska Correctional Center for Women
Community Corrections Center- Lincoln
Work Ethic Camp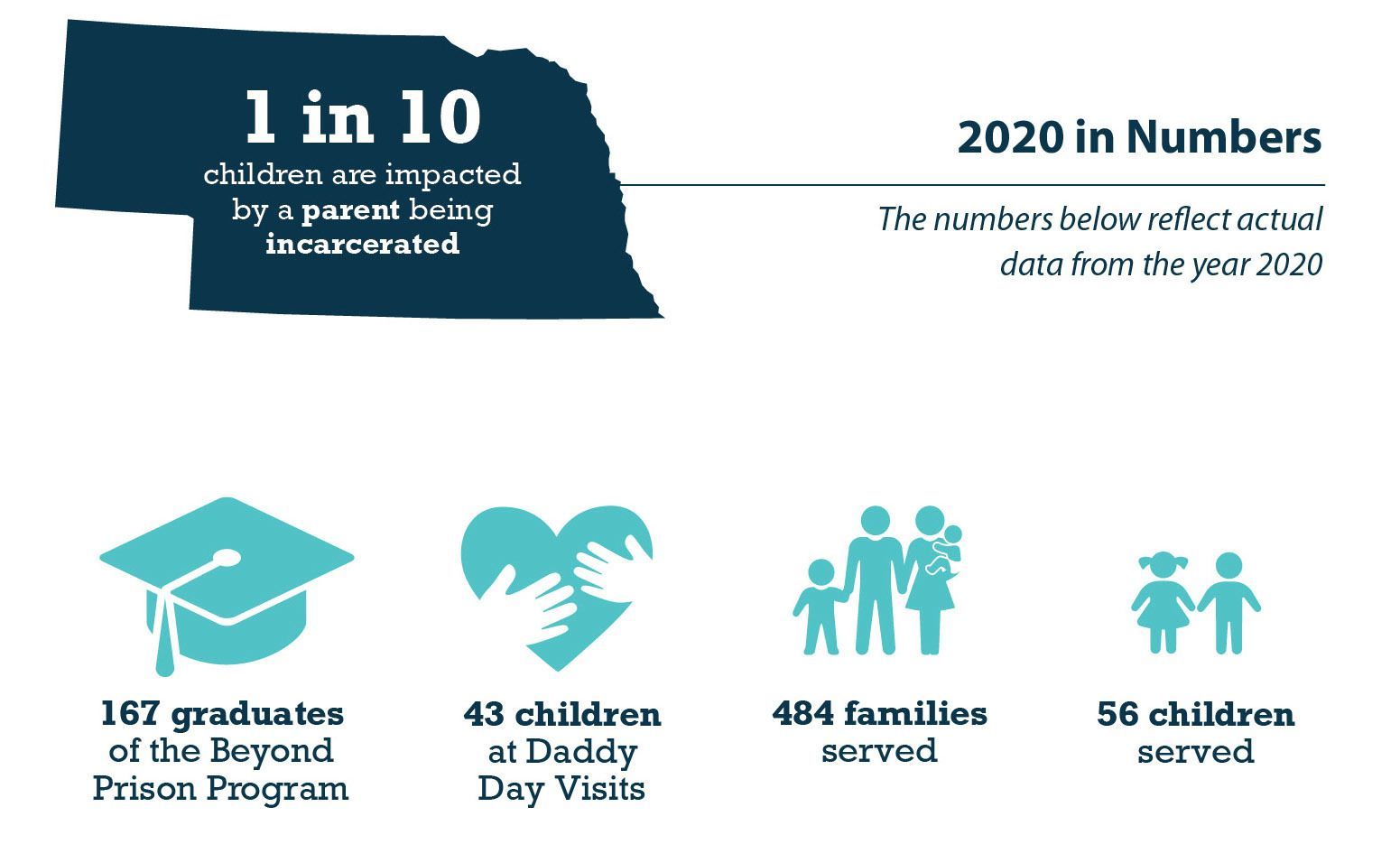 *In 2020- The program's reach was significantly impacted due to COVID and the shut down of most facilities to service providers.
Program Components:
Classes:
Inside-Out Dad®- This parenting program gives incarcerated dads the tools they need to become more involved, responsible, and committed in the lives of their children. 
Within My Reach- Building and maintaining healthy, long-term, romantic relationships is the focus of this class offered to both men and women. 
Boys Town's Common Sense Parenting®- Participants learn to build healthier connection with their children by using skills that help them encourage positive behavior, discourage negative behavior, and teach alternatives to problem behavior.
Incentives:
Daddy Dad Visits- This 2 hour visit is offered on a monthly basis as a way to help dads connect with their children. 
DVD from Mom/Dad- Twice a year parents are given the opportunity to be videotaped reading a book or sharing a special message to their children. The book and DVD are then sent as a gift to the children. 
Father Daughter Dance/Father Son Hang Out- At this annual event, fathers are given an extra special opportunity to connect and bond with their children. 
Family Advocacy: 
Events- Quarterly community events, geared toward the children and loved ones of incarcerated individuals, provide a chance for families to connect and support each other as they walk through this difficult time. 
Support- Those impacted by incarceration can connect with Family Advocacy staff for assistance with personal needs and/or community resources. 
Mentoring- A Family Advocate is available to come along side individual impacted by incarceration through a one-on-one mentoring connection. Focus is placed on exploring strengths, crisis support, and building life skills.