We Provide Children a Safe Place
God is redeeming and restoring the lives of vulnerable children because people like you said "yes" to providing foster care for a child. 
---
We recruit and train foster families who will care for children in a loving, Christian home. When a child is removed from home due to abuse or neglect, we place the child in a foster home, matching the needs of each child with the right family, minimizing additional trauma a child may experience when he or she bounces from home to home. When a child is placed in a Christ-centered foster family and begins to experience God's love firsthand, he or she can't help but be molded and shaped by that love. 
Our foster families are uniquely trained in Trust-Based Relational Intervention or TBRI®️, an attachment-based, trauma-informed intervention designed to meet the complex needs of vulnerable children. Our ultimate goal is to restore the family of each child, whether through reunification with a biological parent, permanency or adoption.
Could God be asking you to stand in the gap for a child?
---
What Makes Us Unique
Deciding to become a foster parent is an important decision. Finding an organization that matches your spiritual values while providing the support you need is just as important. Here are some ways that Christian Heritage can provide you with the unique experience you may be looking for as you begin this journey.
Our experienced trainers will prepare you for foster care in a Christ-centered environment.
Skilled, supportive staff will provide assistance, encouragement, and prayer for your family.
24-hour on-call support from knowledgeable Foster Care Specialists will be available for you.
A community of foster parents that support, encourage, and strengthen one another
Diverse training and support opportunities including training in Trust Based Relational Intervention
Assistance is available to coordinate respite when you need a break
Financial reimbursement to assist with the needs of the child
Christian Heritage has been a pillar of compassion and ministry to Nebraska's youth since 1980. We have offices in Lincoln, Kearney, and Omaha—each dedicated to our mission: Offering Hope to Children and Families.
A Foster Mom's Perspective
"I LOVE LOVE LOVE the fact that this is ministry for everybody involved. It's the first agency I've worked with where the whole agency looks at this as a ministry –from the person who does the finances to the person who mows the lawn – It's all ministry to the population we serve. If this is what God has called you to do, you can do it here. If this is what God has called you to do, you can be in it here for the long haul."

- Miss Rachael
---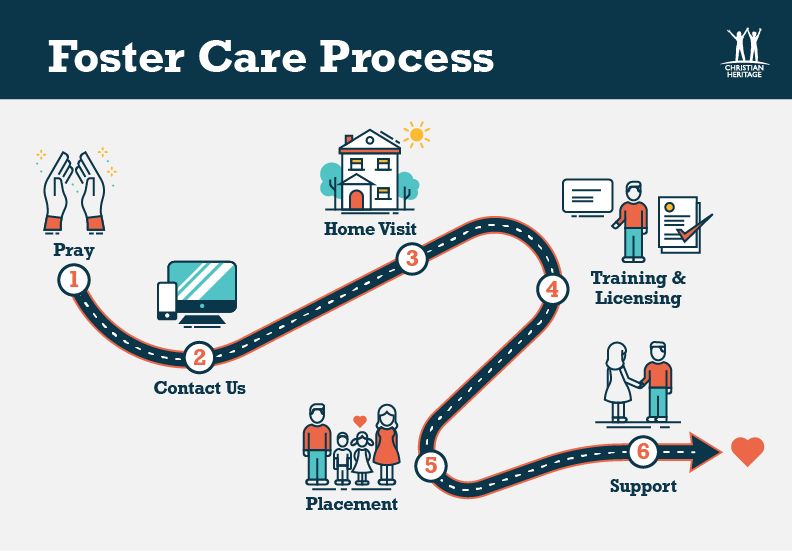 Step 1: Pray 
We believe foster care is a calling.
Step 2: Contact Us 
If you know foster care is your calling or would like to learn more about foster care, we will help.
Step 3: Home Visit 
We will schedule a home visit to get to know you and answer any questions you have about foster care.
Step 4: Training 
Attend our foster care training class and become licensed.
Step 5: Placement
A Christian Heritage supervisor will visit with you to determine what types of placements will work for you and your family.
Step 6: Support 
Once a child is placed in your home, we offer 24-hour support to you.
---
Campus Foster Homes
Becoming a Christian Heritage professional foster parent enables a Christian married couple to care for teenagers or large sibling strips in the foster care system. As professional foster parents, you will care for up to six children in one of our beautiful campus homes at either Kearney or Walton in Nebraska.  
Christian Heritage understands the foster care system can be complex. We will guide you through the process of becoming trained, licensed and having children placed in your home. Christian Heritage will support you and the children you care for.
---